Alumni
2019 Cohort
Jonah Brown will be a senior at Xavier and is considering his options.

update, 2021: Jonah, currently working on a Master's in Teaching degree, is an author on a publication! Chang, et al. 2020, NMR quantification of halogen-bonding ability to evaluate catalyst activity. Org. Lett. 22 (16):6647-6652. https://pubs.acs.org/doi/full/10.1021/acs.orglett.0c02427

Kingston Robinson returned to Xavier for his junior year.

update, 2021: Kingston is weighing several acceptances to PhD programs in Chemistry.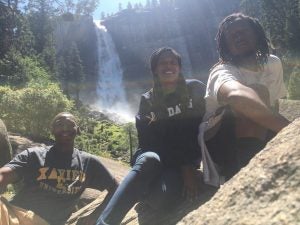 2018 Cohort
Ke'La Kimble returned to Xavier for her senior year. In Fall 2019, she began a PhD program at UC San Diego and now is a member of the Prather lab.
Alaysia Madison returned to Xavier for her senior year. After graduation, she spent the summer in the France/Belgium iREU program. She's now back in the US working as infectious disease laboratory technician at HealthTrackRx.
Tiffany Phillips will be a junior at Xavier University.
2017 Cohort
Kristen Mckendall: Manganese dioxide-mediated esterification of aliphatic and aromatic carboxylic acids via in situ formation of diazoalkanes

Kristen is in a doctoral program in chemistry at Purdue

Hassan Owens: Determining the effect of positively charged triazole modifications in a recently crystalized RNA duplex
Jazmin Stenson: Investigating the relationship between abasic sites in DNA and MUTYH activity

Jazmin is determining her next steps